Grand theft auto prevention
Mohave Valley Daily News 
Grand theft auto prevention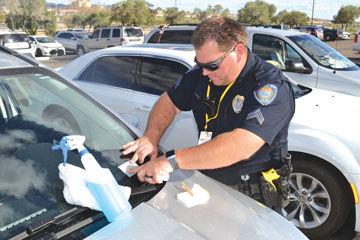 BULLHEAD CITY — George Staten decided not to give would-be car thieves the slightest reason to target him.
Staten had the Vehicle Identification Number of his car etched into its windows at a previous event hosted by the Bullhead City Police Department.
A rock hit the windshield, so he was back Thursday, when the BCPD and the Arizona Automobile Theft Authority again offered the no-cost service.
VIN etching makes it easy to identify the vehicle from which a piece of glass comes, thus making the glass less valuable to thieves.
Read the entire story click on the link below. 
http://www.mohavedailynews.com/news/grand-theft-auto-prevention/article_17848bf4-416c-11e9-8a0a-47627a22abc5.html